Firelite Lodge
A PREMIER CONTACTLESS BOUTIQUE HOTEL EXPERIENCE
Tahoe Happens Here
Welcome To The Firelite Lodge by Playpark Hotels
Built in 1960 to host participants of the Winter Olympics, Firelite Lodge has quickly become one of the most popular Lake Tahoe Hotel on the North Shore.

Located just feet away from one of Lake Tahoe's most beautiful beaches and surrounded by parks – this hotel is an outdoors persons dream stay.‍

Whether you're looking for an adventure in the great outdoors or a place to relax surrounded by Tahoe's natural beauty, Firelite Lodge is here to make the best of Lake Tahoe happen.
North Lake Tahoe Hotel
Contactless Modern Hospitality
At The Firelite Lodge, we adhere to proper sanitizing and safety procedures set in place during the Covid Pandemic. We spare no effort in creating quality lodging for our guests and offer clean comfortable accommodations.
Learn More
Guest App – Everything you need, all in one place
Our Hotel Guest App provides hotel information and useful guides for our guests. It also offers live chat support and frequently asked questions.
‍
Our App is a great way for to provide our guests with all the information they need in one place. The App is cloud-based so guests can access it from device browser. There is no need to download!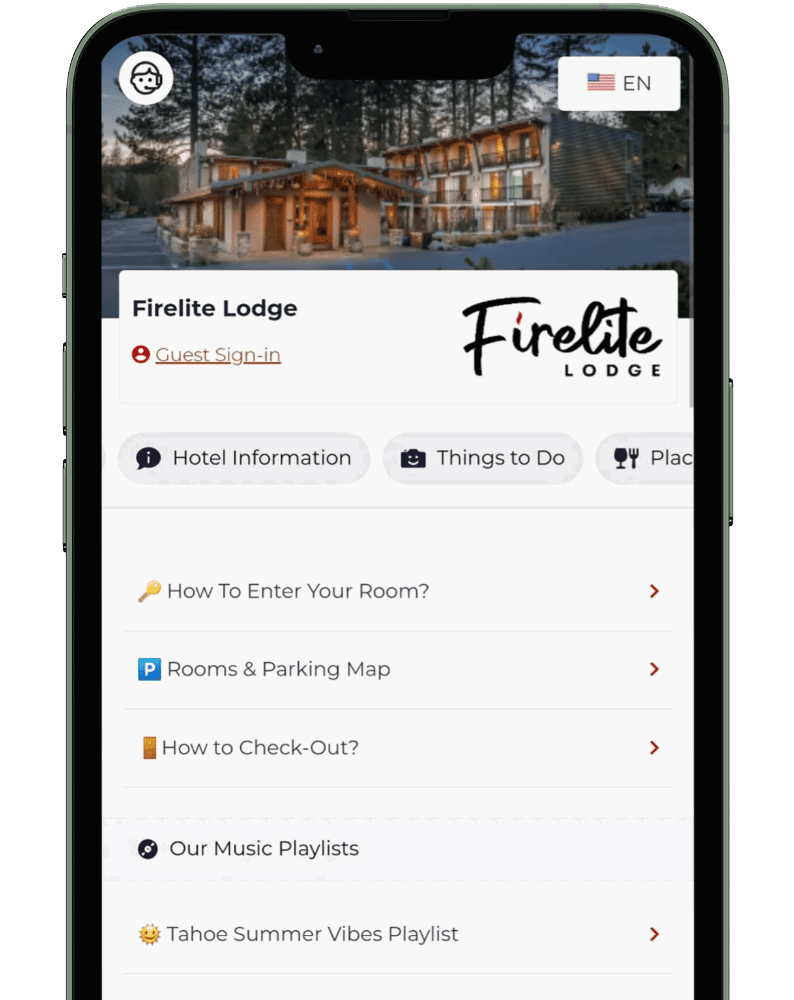 ACROSS THE STREET FROM THE BEACH
Firelite Lodge is located on the North Shore of Lake Tahoe, California, just 100 feet from a Lake Tahoe beach, Tahoe Vista Recreational Area, Boat Launch and Kayak, and Jet Ski rental. North Tahoe Regional Park is only 1 mile from the Firelite Lodge
1000ft From Lake Tahoe Beach
What are you waiting for? Experience North Lake Tahoe Today!
Book Now